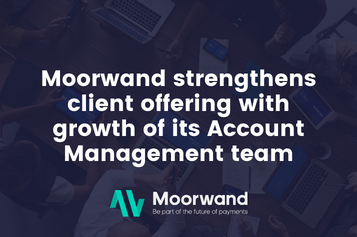 With the continued development of the business throughout 2020, Moorwand has grown its Account Management team to provide a consistent and ongoing level of support for its programme managers once they go to market.
Kevin Friedrich, has joined Moorwand as Head of Client Relations, a new position designed to ensure Moorwand's clients have access to any additional support they need, when they need it most. In conjunction with the existing Implementations and Sales departments, Kevin and his team of new account managers are working to strengthen Moorwand's offering by being on hand to understand the client's current and future growth plans. With an enhanced focus on improving customer journey and experience, the Account Management team will work with clients to ensure that their programme is continuously developing once they have gone live.
With over 15 years in the payments industry, Kevin joins Moorwand with a wealth of experience from working at Thames Card Technology, Emerchants Europe and Nitecrest Ltd.
Commenting on the Account Management team development, Vicki Gladstone, Moorwand CEO, said: "We are known for being a progressive company, constantly looking at ways to evolve and improve our business. We're keen to build on our success, so we knew that introducing our new Account Management team would help to ensure our clients' requirements are met at all times. Having had so much experience within the industry already, Kevin was the perfect fit for this new position. He knows payments inside out, is extremely personable and is ready to help our clients grow."
Kevin Friedrich commented, "I'm thrilled to have joined Moorwand at such an important time in its development. I am looking forward to structuring the account management department going into 2021, with a real focus on continuing to create a clear and consistent journey for all Moorwand clients."
Moorwand aims to transform compliance into an enabler of innovation through its suite of payment solutions: Issuing Bin Sponsorship, Digital Banking and Acquiring.