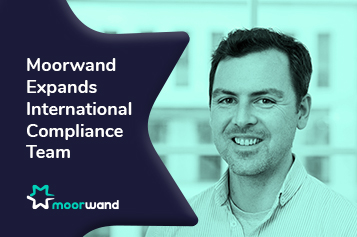 Gareth Mahoney has been appointed by Moorwand as its new Head of Compliance in London. Moorwand is a dedicated BIN sponsor, issuer and acquirer that provides Electronic Money Services and access to Mastercard, JCB, UnionPay and VISA card schemes to payment providers.
Mahoney will lead and further develop Moorwand's compliance and risk teams and will work to drive the company's strong culture of integrity forward. His appointment reflects the importance placed on compliance throughout every part of the business, in order to ensure it can be used as a competitive advantage for Moorwand clients.
With over seven years experience in the payments and legal sector, Gareth joins Moorwand from Raphaels Bank where he was Senior Risk Manager in Card and Payments Division and Deputy MLRO. Prior to this, he held similar positions at successful UK firms like The Financial Ombudsman Service.
One of his key focuses will be supporting Moorwand's rapid expansion plans by strengthening the governance, risk and compliance functions as the company scales across multiple new product lines. In order for Moorwand to deliver best in market service to global payment providers, Gareth will be bringing in new skills and enhancing the specialism for the range of diverse clients on board.
Gareth's new appointment involves a restructure of the current compliance team with Liliana Balan being selected as the new Head of Audit. Liliana has worked with Moorwand for the past 4 years and has a depth of compliance and auditing experience within the payments industry, making her ideal for delivering exceptional results in the team.
Moorwand Chief Executive Officer, Robert Courtneidge said: "Gareth is going to be a huge asset to the business as he has a real belief in the ability to not only provide high standards of compliance for our clients, but also to create opportunities out of industry regulation. As such, Gareth and Liliana will play a big role in making sure that we continue to provide genuine compliance and regulatory experience for programmes, giving a tangible advantage over competitors."
Gareth Mahoney commented: "I am looking forward to growing the risk and compliance department and helping Moorwand to deliver a dynamic range of programmes during such an exciting time for the payments industry."
Liliana Balan commented: "Moorwand has increased its business three fold in the last 6 months, so it is critical we conduct audits on our internal procedures as well as working on auditing our programme managers to provide them with solid compliance advice. I am extremely grateful to Robert and the Moorwand team in entrusting me as Head of Audit and I anticipate an exciting future for Moorwand as our team continues to grow."