The benefits of starting a card programme for your customers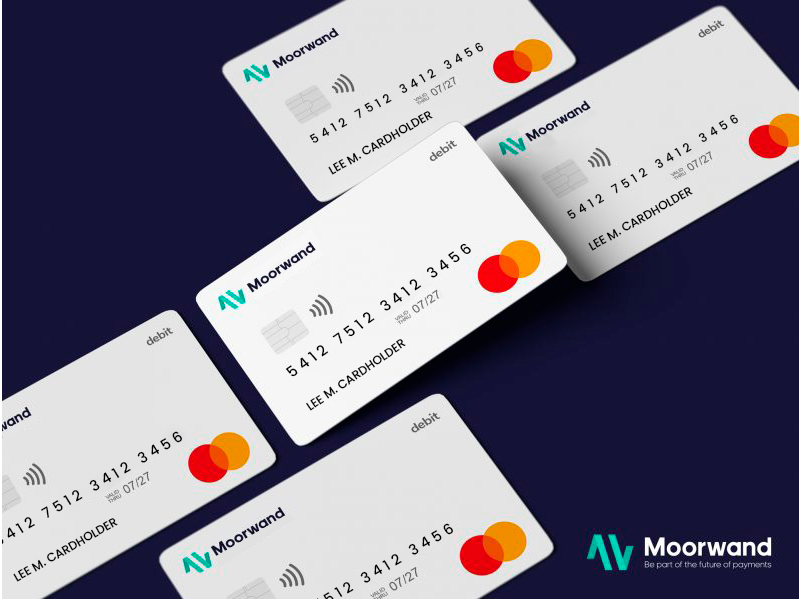 With more and more fintech start-ups cropping up with shiny new card programmes, it'd be all too easy to assume launching one yourself would be counterproductive. But owning a card programme comes with a whole host of benefits, regardless of the competition, and it's never been easier to launch one. Not least because the industry is growing at a rapid rate and investment in the sector is at an all-time high.
To illustrate the perks of the card ecosystem, Moorwand has put together a summary digging into the biggest benefits card programmes can offer both you and your customers. Once you understand these, it'll be far easier to put together the business case for a new payment card. Whether it be an add-on to your existing offering, or a core part in an entirely new business venture.
Competition in the payments market is fierce, but it's important to know why. Because far from making it harder to succeed, the growth in rivalling offerings has actually paved the way to a whole new host of functionalities and niche markets. In other words, there are more opportunities than ever in the payment card space right now.
And with the Financial Conduct Authority (FCA) continuing to update regulations around payments – most recently confirming the contactless limit jump from £45 to £100 – it's clear the UK fintech industry has the full weight of regulators behind it.
A bunch of new functionalities
The ongoing fintech boom has emerged out of a need for new, fresh offerings which rival those of incumbents in the financial services market. Up until the 2008 financial crisis, little had been done to shake their monopolies over consumers. But when banks lost a key ingredient in their appeal – trust – a growing appetite for change took hold, which newcomers have since only been too happy to satiate.
Fintech start-ups challenge traditional banks' rather static card programmes. And they've developed better card functionalities for users in the process. Here are just a few:
Dynamic spending controls
Virtual payment cards
Integrations with the likes of Google and Apple Pay
Ability to switch payments between cards
More flexible cashback programmes
Real-time notifications
Personal financial management (PFM) tools
Card controls, such as freezing it to prevent fraudulent payments
Each new card programme can add to this list of innovative payment capabilities. Incumbents have adopted a number of these features into their own offerings, albeit at a far slower pace. What this undoubtedly proves is that payment optionality and clear visibility across one's finances are becoming table stake requirements of any financial services product.
Discovering niche audiences
Along with new functionalities come niche, untapped audiences which use – or want to use – payments for specific purposes. They can be as particular as Von Moos' 'pay-with-your-pen' product, which embeds a contactless chip into a fountain pen. Though this feeds into a wider theme of embedding the capabilities of a card into wearables, such as smart watches and jewelry.
Other trends currently gripping card markets globally include:
Sustainability. Fintech start-ups are aligning their cards with their users' values, particularly around the topic of ethical banking. One example is TreeCard. Its wooden debit card, powered by Mastercard, reforests the planet every time a user spends with it.
Kid banking. At the heart of fintech is the ability to broaden access to financial services. Which is why a number of start-ups are catering to the under-18 segment with prepaid cards. gohenry has already signed up 1.5 million customers across this demographic under the supervision of parental controls.
Gig economy. The UK alone houses some 7 million gig economy workers. Built for this niche, fintech newcomer Blocser's Butterfly card comes with the ability to make payment requests, generate contracts and receipts, chat with buyers via integrated mainstream messenger apps, and design their own "webshops".
The sheer number of adopters willing to use these new – as opposed to old – card programmes is more than incumbents would like you to think. Digital-only bank account users in the UK now make up more than a quarter (27%) of British adults, according to 2020 Finder research. In other words, 14 million Brits own at least one bank account with a challenger. And this year, a further 5.7 million Brits intend to open an account with a digital bank – edging the nation's usage to a third.
Benefitting from a partner network
Ultimately, for your card programme to succeed, it has to have the right partners positioned throughout its ecosystem. That way, your firm can save time and money on already-built capabilities, as well as widen the use and adoption of your own technology.
As this Forbes article highlights: "The race to win in the fintech arena looks more like a relay race than a winner takes all endeavor—it's a team sport, with everyone building solutions and products on top of existing financial services infrastructure."
The payments space is currently home to a host of symbiotic card programme partnerships. In 2019, Visa published a piece called 'The power of partnerships'. It lists some of the key fintech deals the US card issuing giant established that year, including Revolut, Bankable and N26. Whilst these new players get access to Visa's brand, scale and global acceptance, Visa can incrementally increase the number of its cardholders.
Luc Gueriane, Moorwand's Chief Commercial Officer, CCO, summarises the benefits of partners well in this article. He says: "As the fintech industry matures and takes stock of how it has disrupted the banking industry for good, it's critical we continue placing value on specialisms to create a better, customer centric, banking experience for all. A long-term vision and a support network of experts has never been more important to those starting out today."
A burgeoning industry
There are plenty of positives when it comes to starting a fintech of any kind in the UK, not least because of the country's healthy investment environment, its friendliness towards cross-industry partnerships, and the growing shift from cash to contactless.
UK fintech start-ups raised $2.9 billion in Q1 2021 across 117 deals. As AltFi points out, these figures are up 331% compared to Q1 2020, when Covid-19 fears and the UK-wide lockdown put new funding rounds on ice. "It's clear that the appetite to fund high-growth, ambitious businesses is back, and investors are ready to put capital behind UK fintechs," says Charlotte Crosswell, the outgoing CEO of Innovate Finance.
As of 2019, the publication date of the latest UK Fintech State of the Nation report, there were some 1,600 fintech firms across the country. The report said this figure would more than double by 2030. This estimate suggests that in 2021, the UK is home to around 1,891 fintechs.
With the ecosystem continuing to grow at a rapid rate, this bodes well for the rate of partnerships too. In 2019, 82% of incumbents already expected to increase their fintech partnerships quotas over the next three to five years.
And as contactless card payments only continue to rise astronomically, it's clear the nation is becoming ever more comfortable with card-based and digital wallet alternatives. Visa customers alone across Europe made one billion additional contactless payments in the year following the first pandemic-induced contactless spending limit increase.
Just scratching the surface
These are just some of the reasons why starting a new card programme for your customers could open up some huge opportunities for business growth, as well as boost their satisfaction with your service. But this is by no means a finite list, and as you discover the sort of audience you want to cater for, new benefits will emerge.
If you're still struggling to get started, it might be worth sparking up conversations with potential partners. That way, you can begin to understand how you might feature in the various ecosystems they've built. These conversations will also show you what you do and don't need to build yourself. Feel free to reach out to us, we're always happy to be a soundboard.